By: James Brookes
April 24, 2020
If there's one thing we love see here at Gas Mask, it's the coming together of kind hearts during a time of crisis and need. Keep reading to see how The Shelby is helping the Los Angeles community.
There's no doubt about how life has changed since COVID-19 stepped into the party. State and City lockdowns, shortages of food at the grocery store, unemployment at a record high, and as of today, Google reports over 51,000 deaths in the United States alone. Needless to say, things are tough.
HOWEVER, there is always a light during a grim situation. Healthcare workers have been working 'round the clock to ensure there are enough hands-on-deck to battle the coronavirus crisis. So the last thing we want is for them to go hungry, right? Well, to show their appreciation for the staffs at LA Children's Hospital and Cedars-Sinai Medical Center, The Shelby and friends (Alfonzo Luna, Chad England, and Greig Borthwick) teamed up to feed them a delectable lunch. For the last three weeks the guys have been doing this, and as of the moment, don't plan to stop. Talk about a group of good-hearted individuals!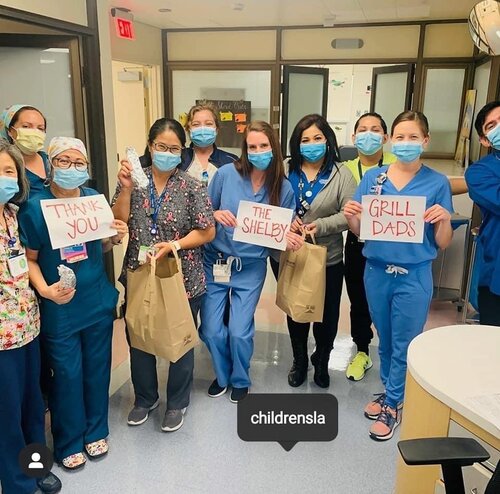 Check out the pics below, and be sure to follow @theshelbyla for updates, classic American Fare and exquisite cocktails, Gas Maskers! Love will always win. ❤️