By: A Sensitive Man
October 18, 2020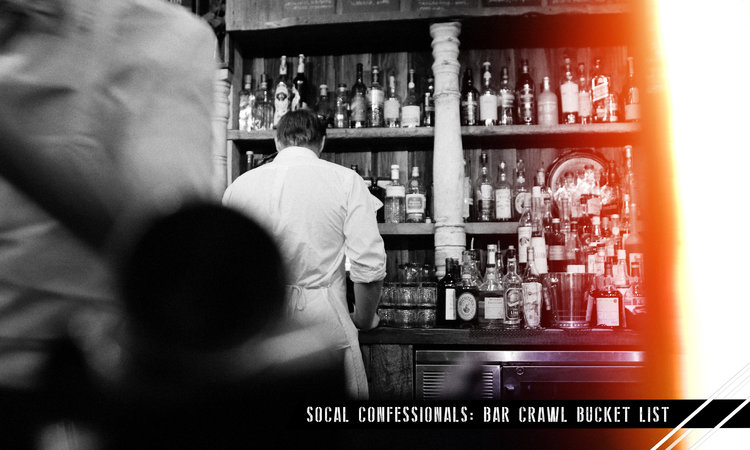 In a city that oozes culture, history, scenery, and things to do, adventure is everywhere in Los Angeles. You might enjoy a hike around and through abandoned World War II vehicles or the Old Zoo at Griffith Park. You may enjoy catching a show at The Bowl or long, romantic Poke-walks along the Santa Monica Pier. With so many things to do, where do you start? The bar, of course! Because we all need some nights swimming in whiskey. But where? It's not always easy to pick a bar. You may not have a lot in your pocket. You may be worried about atmosphere more than the strength of your drink. As a woman, and (often) a broke woman at that, I have taken all of those factors into account and come up with the ultimate LA Bar Crawl. These bars are in no particular order and are featured due to highlights that make them stand out from the rest. Whether you do them all in one night, or one night at a time, these 9 bars are absolute LA musts!
NO VACANCY "THE ALL IN ONE"
Hollywood, California
What makes it a must? Everything. Seriously.
No Vacancy is one of my favorite bars in LA. Located at the base of the Hollywood hills at Highland and Hudson, this gorgeous bar was once Charlie Chaplin's home and then became the Hotel Juniper. In the faux-speak easy tradition, the bar is not exactly hidden but the entrance is not the most obvious either. Once you find the way in, you'll find the bar was immediately well worth the trip. With the greeting (I'm not going to spoil what that is if you've never been there), the atmosphere, and live music on the patio, you won't be sure if you're in 2016 Hollywood or Prohibition-era Los Angeles. As a bonus, another great speakeasy type bar called Dirty Laundry is underneath No Vacancy. It has a darker, baroque basement kind of vibe but is still a fun stop! There's even an alleyway leading out of No Vacancy with three other bars, so this location alone gives you your own mini Hollywood bar crawl with five stops in one!
…but what about the booze?
I would not say that No Vacancy is a "bang for your buck" kind of bar, but it's pretty standard priced as far as LA nightlife goes. I justify spending the extra cash because the drinks are delicious and strong. Personally, I hate Gin. It tastes like hospital to me. But my favorite drink at No Vacancy, "China Doll" is a Gin based cocktail. It tells you a lot about the quality of the bar—and the bartender—when a drink is whipped-up out of liquors you typically don't enjoy and they become your signature.
TRIP "THE LOCAL HANGOUT"
Santa Monica, California
What makes it a must? The smooth combo of live music and beer.
Trip has been one of my local spots for a couple of years. A small dive-ish bar just blocks from the beach, Trip has a great casual vibe. Between the pool tables and nightly performances by local artists of many mediums: musicians, live painters, and even burlesque dancers, it is virtually impossible to go wrong here. For me, there's nothing like a Tuesday night at Trip with some cold brews and the live Jazz fusion style of the Julian Coryell Trio, Trip's Tuesday night resident band. The next time you stop by, say hello to Anneka for me and tip her well.
…but what about the booze?
Trip is a beer and wine bar with a great selection of beers on tap and a "drunken basil lemonade" which is almost too easy to drink. It's reasonably priced and a great option for a night when you don't want to spend too much money—just have a beer and hang out.
THE EDISON "THE CLASS ACT"
Downtown Los Angeles, California
What makes it a must? Atmosphere for days!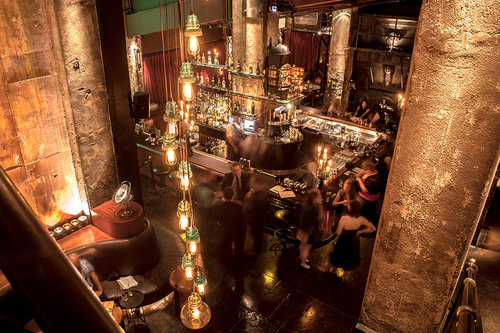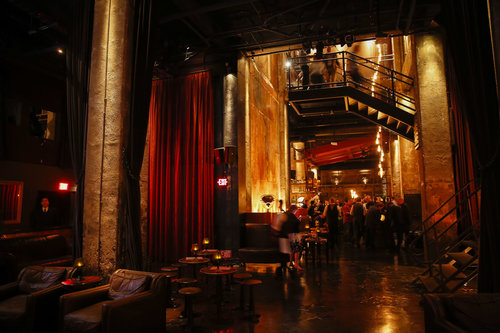 The Edison is one of the more upscale bars on this list. I'm somewhat partial to the Jazz Era, so this Prohibition style bar is a big win in my book. It's hard to say what my favorite aspect is about a bar with a gorgeous aesthetic adorned with steam punk style decorum and silent movies projected onto the walls. If nothing else, The Edison is a feast for your eyes giving a modern twist into a glimpse of a classic past.
…but what about the booze?
This is definitely a more expensive attraction on this list; drinks range between $12 – $20 a drink. I get it, with a thin pocket that's hard to justify, but if you're going to quantify it, consider this: The Edison features rare liquors on their shelves that are harder to find in other bars. They have an entire section on their menu of Absinthe cocktails! I find Absinthe disgusting tasting (Black licorice like. Ugh. Gross.) but it's something you've gotta try once! No need to say "When in Rome" when you can have some Euro delicacies right in LA!
THE ESCONDITE "THE WILD FOODIE"
Los Angeles, California
What makes it a must? Funky food!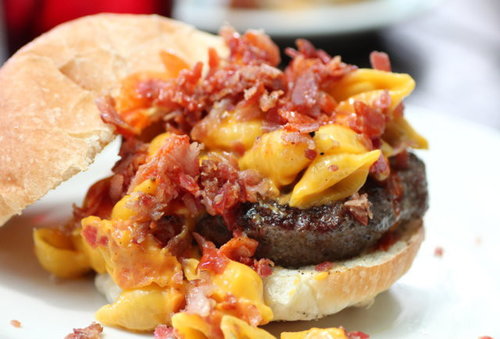 The Escondite is a dive bar in the Downtown LA area featuring local musical acts every night with no cover! The low key atmosphere makes for a chill tone and fun night, but the big win of The Escondite is the food. The Escondite features a crazy eclectic menu with unusual dishes, such as a bacon cheeseburger in between two glazed doughnuts (as buns). The menu is too fun to not try at least once! Although I don't recommend eating those meals often, the food struggle is real if you have not attended The Escondite just for those burgers…I'm not sorry for saying it.
but what about the booze?
In addition to funky food, The Escondite features some fun craft beers and awesome cocktails for reasonable prices. How can you go wrong with a good drink, fun food, and a (somewhat) light wallet?
FROLIC ROOM "THE LAST BAR ON HOLLYWOOD BOULEVARD"
Hollywood, California
What makes it a must? It's a movie star!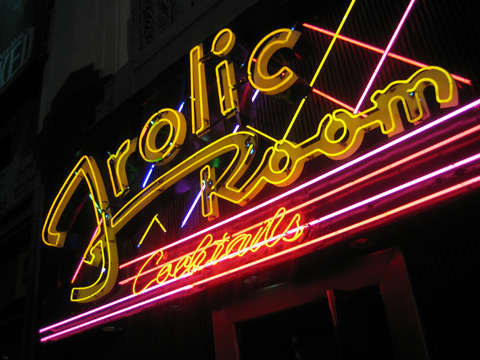 When you're a bar that was owned by Howard Hughes, have been featured in L.A. Confidential, and also a real life favorite of Beat Charles Bukowski, you are a star in your own right! With fun caricatures featured on the walls and an at-home-feel, Frolic Room is a sophisticated dive bar that has become a local favorite of Angelenos ever since its debut in the 1930s. Whether you've just seen a show at The Pantages Theater next door or just happen to find yourself at "The Last Bar On Hollywood Boulevard," Frolic Room is a great bar to end (or start!) any true Hollywood adventure.
…but what about the booze?
Two words: Happy Hour. Actually, we'll say the happiest hour with well drinks under $5 dollars and beer for under $3. If you can't get over to Frolic Room by 7 PM, have no fear. The bartenders have never lead me or my pockets wrong—making the drinks worth it anytime day or night.
BAR MARMONT "THE STAR STUDDED AFFAIR"
West Hollywood, California
What makes it a must? The glamour of being (in)famous.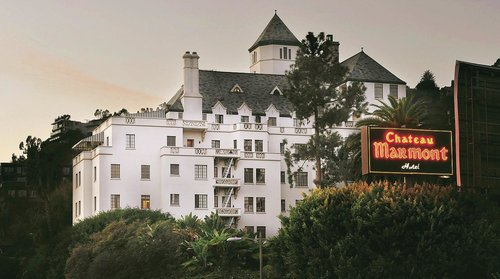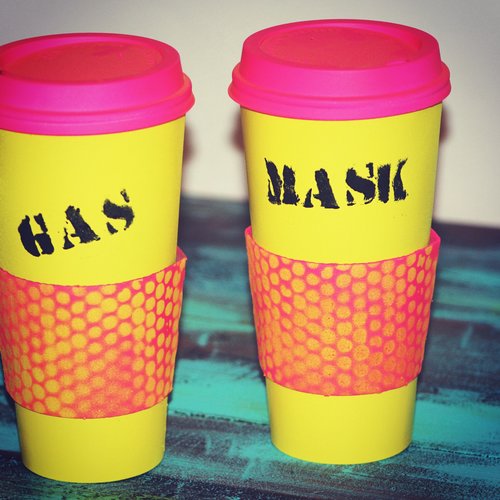 We've all heard about The Chateau Marmont and many stories about the celebrities who play there. While you can't actually get into the Chateau without a reservation, you can still get a taste of the glitz at the Bar Marmont just in front of it. Adorned with kitchy but tasteful decorum, the bar has a high society vibe that is perfect if you're looking to celebrate a special occasion or a fancy night out. And hey, who doesn't want to visit the bar of the stars?
…but what about the booze?
It's a classy bar, so the prices follow suit. But the drinks are strong and they're fun. They also make fun custom drink menus for "holidays" like Valentine's Day, etc. I've had the "heartbroken" menu myself a couple of times. (Shots of tequila, a hammer, and a heart shaped cookie. Yes, I'm serious.)
CRANE'S BAR DOWNTOWN "THE JACKPOT"
Los Angeles, California
What makes it a must? How many bars do you know of in a bank vault?
You read that right! Crane's Bar is a gem in the heart of Downtown LA…in an old bank vault! As an added bonus, they have a super cool jukebox that looks like a giant iPod. Need I say more!? On paper, Crane's sounds like a super trendy bar that would have a questionable crowd setting. Yet, when you visit, you will notice that it does not have a trendy bar feel, nor a less than desirable trendy bar crowd. The unique setting of the bar attracts fun local patrons and ensures a different and fun experience for all! Crane's is a must stop for any bar crawl or night on the town!
…but what about the booze?
Whiskey on the rocks. Whiskey on the rocks. Whiskey on the rocks! As a whiskey fan, I can say nothing bad about a bar that has 35 whiskeys in addition to 32 bottles of tequila and 15 bottles of vodka. It's understandable if you're extra conscious of money when you're in a bank vault, but have no fear! Crane's features delicious and strong adult beverages for reasonable prices.
HONORABLE MENTIONS:
Loaded (Punk dive bar) — Hollywood, California
The Standard Rooftop Bar (Hotel rooftop bar) – Los Angeles, California
Pearls (Rooftop brunches!) – West Hollywood, California
Library Bar At The Roosevelt (Fun bar for us bookworms) – Los Angeles, California
Brennan's (Thursday night turtle racing!) – Santa Monica, California
There you have it! Happy crawling! What's your favorite bar in Los Angeles? Any other bars to add to this list? Have you been to any of these bars? I would love to hear your experiences! Shoot me a tweet at: @asensitiveman